Fatshark released a statement announcing that their upcoming game Warhammer 40,000 Darktide, has unfortunately been delayed until spring 2022. Warhammer Darktide will be Fatshark`s newest Warhammer game, previously working on Warhammer Vermintide.
The official announcement reads:
We have a responsibility to deliver the best game we possibly can, and frankly we need more time to accomplish this goal. It's no secret that building a game during a pandemic is a challenge and we are not immune to this," Wahlund said in a statement posted to Twitter.

"We are planning to use the extra time to both focus on the level of quality on release, as well as invest in more systems to support Darktide for years to come.

We couldn't be more excited about Darktide. In fact, the toughest part in this decision is the fact that we won't be able to put the game in your hands sooner. But I hope that you will join us in Huve Tertium early next year!

Martin Wahlund, Co- Founder of Fatshark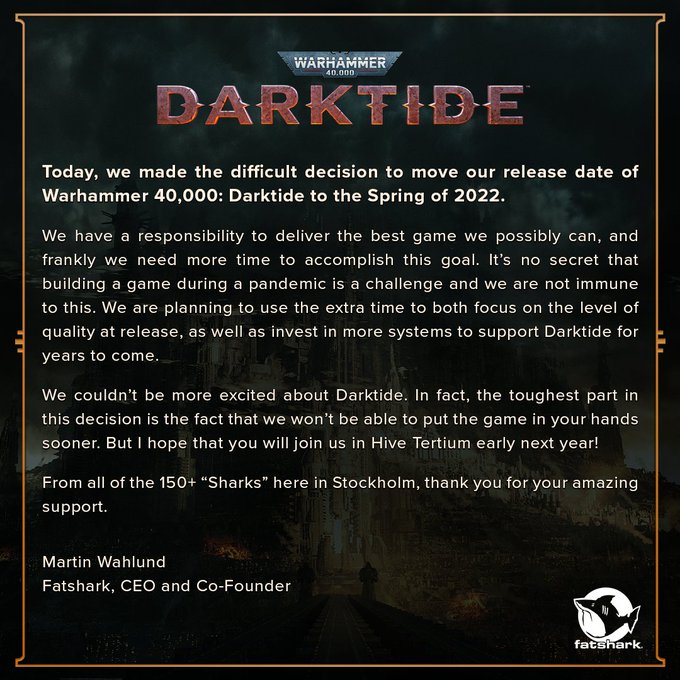 This was a surprise to a lot of Warhammer fans, the developers being very close to the chest about Darktide have barely revealed anything about it except for a announced trailer, gameplay reveals and writer reveal.
While it is sad to see it be delayed, we can expect the game to get the much-needed love it deserves to be the best 40k game it can be upon release. I hope you're as excited as we are about the upcoming 40k game!
As always, for more news, reviews, rankings, and gaming news, you can keep up to date at Informed Pixel. Did you enjoy this week's news, were there any articles that stood out to you? You can let us know and discuss with other gamers over the official Informed Pixel Facebook page and the official Informed Pixel Twitter account!